I have had a few stalkers in my years of being on the internet. Many of times I have wondered why do people bother being obsessed over lil ol' me? Am I really that important? I mean, to my family and close friends I am. But this is the internet. It's an outlet for resources and entertainment. My time online is purely entertainment. Nothing more, nothing less. Yet regardless of that fact I still manage to piss people off to the point of them going on an emental rampage. I would apologize but why? I am me for a reason. Yes, I can be mean. And yes, I may sometimes hurt you with my words. However, you will Never say that I sugarcoated anything. I'm real. I say exactly how I feel. Never faked. I deny nothing, and admit and stand behind everything that comes from my mouth. You either like me or you don't. It's that simple. Following me from site to site, spying on my social networks from afar, visiting my site 50 times a day, etc. etc. I can deal with. I kinda get a kick out of sometimes. I admit that. But creating fake accounts using my picture? Are you that lame? This is the internet. What pleasure does it give someone to pretend to be someone other people think is the person in the photo? Wouldn't it be more fun being you instead of pretending to be me? I thought so until today.
I was browsing MySpace and chatting with my girl Keke about her recent stalker who has resurfaced. And for some reason, I decided to search MySpace for the name "Upenzi". People are always asking what it means because it's such a unique user name. It never really dawned on me that someone else might have the name too. Although you would have to be familiar with the Swahili language to even hear it, it's still a possibility. Yet so far for the last 6 years I have managed to be the only Upenzi online. You can imagine my pure shock when I see this: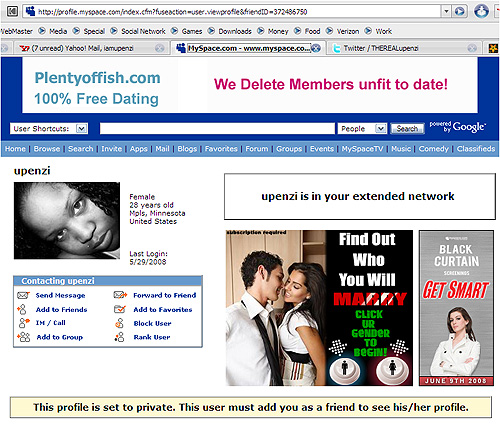 http://myspace.com/372486750
This is NOT my MySpace page. But that is my picture. Someone has created a MySpace using my name 'Upenzi' and my photo. However, I do not live in Minnesota and I am not 28. I'm a little ticked off that the profile is private because I really want to see what's going on on that page. It's also interesting to know that this profile has been around at least 2 months from what I can tell. I've reported it to MySpace. They are pretty good about deleting fakes so hopefully they hurry up.
Then I'm sitting on Twitter tonight and someone asks me if I have a new Twitter Page. I'm looking all confused and puzzled. Then a few people tell me that someone requested an add request and it looked like my page and they they added 43 of my friends already. I find this.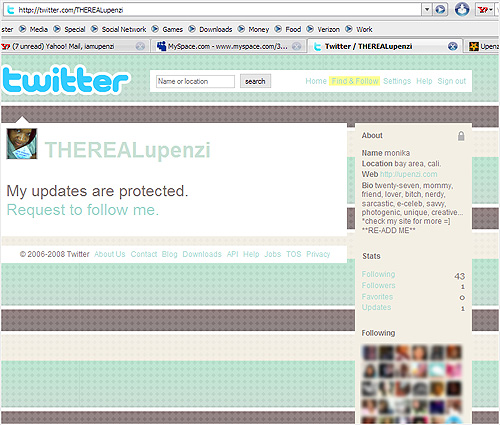 http://twitter.com/THEREALupenzi
This is NOT my Twitter page. But that is my picture and design as you can see. What's even funnier is that they just did this today. Because I just updated my photo on Twitter this morning after discovering the MySpace page.
So someone is seriously stalking the shit out of me. I have a suspect in mind but don't really want to drop any names. Only because they have finally left me alone (I think) so I don't want to bring them into it if this happens not to be them at all. It's really kinda pathetic when you really think about it. Who has time to do shit like this?
I guess I should feel special but I really just feel watched. Which makes me uneasy considering this is not what I get online for. I have been through this before. I have even been stalked to the point of people trying to pinpoint my exact location, to guys and girls telling me they know me in the club, to guys yelling my username in the street, to people adding me on Yahoo and telling me how long they have been following me, the list literally goes on and on and on. You would really think that I spend so much time on hella different sites. But I really don't. I signup for sites just like the next social networking person. However, 80% of them I'm not even active on. I just sign up cause my friends do or just to check it out. Rarely do I return.
I'm only really active on: FullFiggas, MySpace & Twitter. I plan to delete all other accounts that I think I'm on that are not in use. If you don't see the Social Networking button on my site that links you directly to ME then it is NOT me and I suggest you block that person and report them as an impostor. If you see my photos posted on any other site besides those listed on here, it is NOT me.
To the person or people who keep taking my photos (which by the way will only be on Friends Only on Flickr):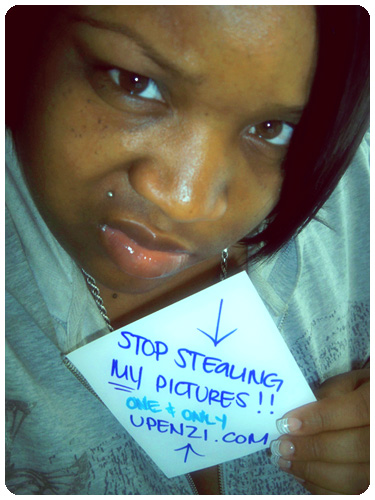 Will The Real Upenzi Please Stand Up!!