This is literally one of the most requested meals in my household.  I put my own spin on everything that I make so if you've seen mine, you'll notice it's a tad different.  We love cheese around here so I top my enchiladas with freshly shredded Monterey Jack cheese before placing it in the oven.  This dish is best served with black beans and black olives, if you like those.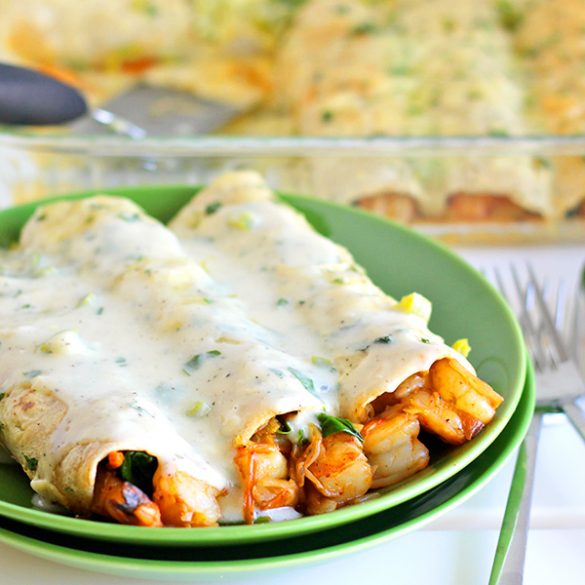 Ingredients
1 pound medium shrimp, peeled and deveined (I suggest tiger shrimp or farm raised shrimp)
2 tablespoons olive oil, divided
Salt and ground black pepper, to taste
2 cloves garlic, minced
1 small onion, diced
2 cups shredded green cabbage
1 carrot, peeled and grated
3 cups baby spinach
2 tablespoons chipotle pepper, in adobo sauce
1/4 teaspoon oregano
1/2 teaspoon cayenne pepper
12-14 (6-inch) corn tortillas, warmed
2 cups Monterey Jack cheese
2 tablespoons unsalted butter
2 tablespoons all-purpose flour
1 1/2 cups chicken broth
3/4 cup sour cream
2 jalapeños, seeded and minced
1/2 teaspoon garlic powder
Salt and ground black pepper, to taste
1/4 cup chopped fresh cilantro
Instructions
Preheat oven to 400 degrees F. Line a baking sheet with parchment paper.
Place shrimp onto the prepared baking sheet. Add 1 tablespoon olive oil, salt and pepper, to taste, and gently toss to combine. Place into oven and roast just until pink, firm and cooked through, about 6-8 minutes. Remove from oven and let cool before dicing into bite-size pieces.
Reduce oven temperature to 375 degrees F. Lightly oil a 9×13 baking dish or coat with nonstick spray.
Heat remaining 1 tablespoon olive oil in a large skillet. Add garlic and onion and cook, stirring occasionally, until the onions become translucent, about 5 minutes. Add cabbage, carrot, spinach, chipotle pepper, oregano and cayenne. Cook, stirring occasionally, until the spinach just begins to wilt, about 1-2 minutes. Add shrimp and gently toss to combine.
To make the sauce, melt butter in a large saucepan. Whisk in flour until lightly browned, about 1-2 minutes.
Gradually whisk in chicken stock and cook, whisking constantly, until incorporated, about 1-2 minutes. Stir in sour cream. Add jalapeños and garlic powder and simmer until the sauce has thickened, about 2 minutes; season with salt and pepper, to taste. Remove from heat and stir in cilantro.
To assemble the enchiladas, lay tortilla on a flat surface and spoon 1/3 cup of the shrimp mixture in the center; sprinkle with cheese. Roll the tortilla and place seam side down onto prepared baking dish. Repeat with remaining tortillas and shrimp mixture.
Pour half of the jalapeño cream sauce evenly over the top. Place into oven and bake, covered, until lightly golden and bubbly, about 20 minutes.
Serve immediately with remaining jalapeño cream sauce, garnished with cilantro.
Notes
CREDIT: DAMN DELICIOUS