Welp, I tried not to be typical and say the same basic thing I say every year about losing weight as a new year resolution, but I'm seriously over the chunk.  I don't want to be Chunky Moe anymore, I need the chunk gone ASAP.
I wonder how many people have been following me long enough to remember when I was known as ChunkyMoe?
Since last summer I slowly started gaining weight again.  I barely eat and yet I've been gaining weight since mid July.  I thought it might had had something to do with my Mirena birth control because I was experiencing some other side effects that only started shortly after having it placed, so I brushed it off.  I was also taking an anxiety medication that definitely was making me hungrier than normal, and I found myself always craving candy.  It was until Facetiming with people became uncomfortable because they would notice the change in the shape of my face becoming rounder, my cheeks filling out. Ugh!!
Day One of the new year I actually worked out at home.  Do you know that was the only day in the past 8 that I worked out? I literally have done nothing since.  But after a recent doctors appointment and stepping on the dreadful scale, I found out I had gained yet another 8 pounds in the past 3 weeks.  WTF?!?!
I'm putting the snacks away, not buying anymore candy, ridding my purse of the two boxes of Mike & Ike's, and resetting my life…again.  There is no time like the present right? I should do something today that my future less chunkier self will thank me for.  I love eating but I must learn to do so in moderation and stop snacking so damn much.  If I ate a full meal when I'm supposed to, I wouldn't be hungry all day.  So the plan at the moment is to do the Pouch Test to reset my stomach.  Lord help me…seriously!  This test lasts is only 5 days, but the first two are going to be the hardest.  I imagine this is the best time to do it also because I have a dental appointment Thursday afternoon and surely won't be pigging out after that.
The Pouch Test is truly geared for Bariatric Patients, but I think it's a great way to reset your body and cleanse before diving into healthier eating habits, so anybody should be able to try this one out.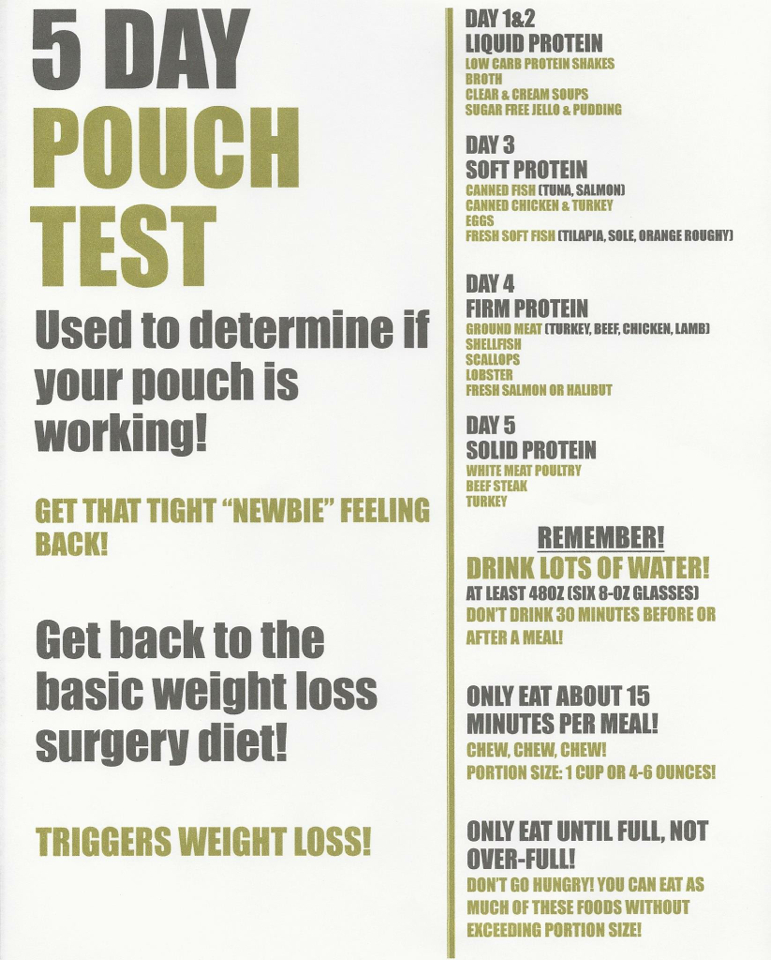 I'm also going to be utilizing an app called Baritastic to keep track of what I should be doing and to monitor my progress.  There's something about using a mobile app sometimes that keeps me motivated and I like this one because you can set reminders of when to eat, drink, take vitamins, and so much more.  It's not so much about just losing the weight, it's holding myself accountable for the decisions I make and going after what I want to change in my life health-wise.