Hallelujah! It finally happened. Ya girl finally got a new car. I'm so excited. I have been catching the bus for over a month now. I was determined to drive by Monday. Last week my mom contacted a friend of hers to see if he could help with finding me a bucket. Just a simple Point A -to- Point B vehicle. He assured her that he could work something out. Here I was super geeked and ready. Went all the way to his dealer lot and he wasn't there. 🙁 Then I call him and he's at the auction. Okay, why have me come over here if you aren't going to be here? So I go home slightly disappointed. Ok, I was mad. The next day, Thursday, I call him and he basically tells me there's not much he can do. All the cars he had on his lot were out of my budget and that I should call him next week to see what's he's got. Umm jackass, you knew that before you told me to come there. At this point I'm like screw you buddy I don't have time to play.
So I hit my favorite resource CraigsList. I was ready to give up there too since all the used cars had problems. That is until I stumble upon an ad that reads "If you have a job and $999 down, we guarantee approval". I'm like…hey, I have $999. So I set out to contact them the next day. Sure enough the guy confirms the ad and says the car is still for sale. I let him know I'll be there Saturday to see it. I swear, I woke up this morning ready for this to go either way. I've been let down enough lately with money situations, so I was prepared to cry. So what, I'm a crybaby. Kimoni, my mom and I drive out to the dealer lot and see the car. She's so pretty. After signing a bunch of papers and calculating a bunch of numbers, (thanks mom for the $500 on my deposit) ladies and gentlemen, I drove away in my new (well, she's new to me) 1994 Infiniti Q45. :sing: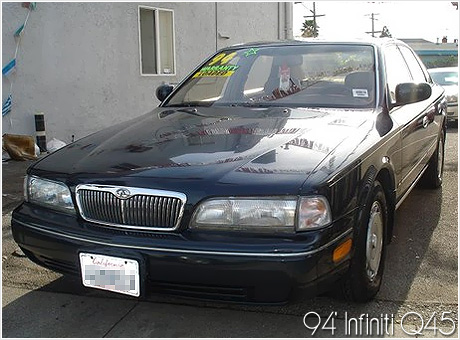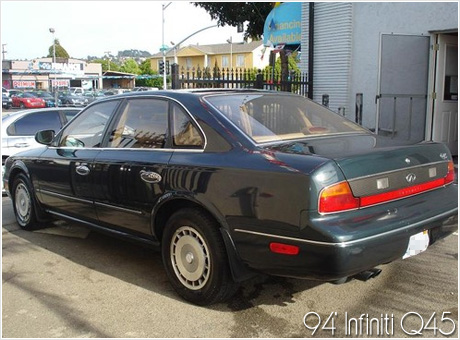 Ain't she pretty? Yeah…I know 🙂 She drives so smooth and she's very quiet. She's a dark green and she sparkles in the sun. Fully loaded too. 6 disc CD Player, Tan Leather Interior, Automatic Windows & Locks, Automatic Seats, Woodgrain and the best stock Stereo system ever. OMG..I love my car!! I have to think of a name for her. Something sexy yet classy. Nasty but not trashy. I don't know yet. But what I do know is I can't wait to drive her again tomorrow. 🙂
Thank you everyone for your silent prayers. I have been waiting for this moment. It's hard being an adult and I'm just trying to live my life comfortably and right. I feel so blessed.