If you know me, you know that I have a major affinity for seafood. I eat it several times a week. Over the last few years, lobster has become my favorite. I'm sure this is simply because I don't have easy access to Dungeness Crab and Tiger Shrimp, but these lobster tails are everywhere here in Georgia. Anyway, here's a pretty awesome recipe for Fried Lobster Bites. Let me know how you liked it.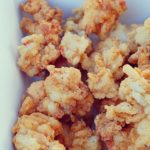 Ingredients
4 Lobster Tails

1 cup flour (if you don't have flour, use 2 cups of yellow cornmeal, 1/2 cup of cornstarch)

1 teaspoon garlic powder

1/2 teaspoon pepper

1 teaspoon salt

Oil for frying
Instructions
In a bowl, mix flour with garlic powder, salt, and pepper. TIP: If you don't like too cook with salt, use Mrs. Dash Lemon Pepper in place of salt and pepper.
Cut through the soft side of the lobster tail, then cut down the hard shell, place thumbs in middle to break outward and pull out the meat.
Cut into bite-sized pieces. Each lobster tail should produce 6 evenly cut pieces.
Heat oil in a skillet on medium high heat until hot (350 degrees)
Place lobster bites into flour mixture and coat.
Fry bites until golden brown on both sides. It only takes a couple of minutes.
Sprinkle with dry parsley and drizzle with fresh squeezed lemon juice.
Serve with remoulade sauce.