Shrimp & Grits has definitely become one of my favorite meals.  I find myself looking for it every time I visit a seafood restaurant, hoping that it tastes just as yummy as the last place.  So far only there are two restaurants here in Atlanta, Georgia that make really yummy shrimp & grits to my liking.  If you're local, try them out: Gumbeaux's Cajun Cafe and Scales 925.  But since it's not always easy to get to these places when you're really hungry, here's an awesome recipe!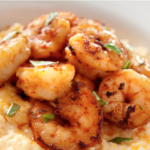 Ingredients
1 tablespoon olive oil

2 andouille sausage (I use Johnsonville Andouille)

1 cup chopped onion

1/2 cup chopped green onion

1 teaspoon minced garlic

1 teaspoon cajun seasoning (I use Slap Ya Mama Cajun Seasoning)

2 1/4 cups of water, divided

1 tablespoon unsalted butter

1 cup fat-free milk

1/4 teaspoon salt

1 cup uncooked quick grits (I use Jim Dandy)

1 cup shredded sharp cheddar cheese
Instructions
Slice andouille sausage into circles the short way.
Heat olive oil in a large skillet over medium-high heat.
Add sausage and sauté 2 minutes or until edges are golden.
Add onion; sauté 2 minutes.
Add garlic; sauté 1 minute.
Add shrimp to pan, sprinkle with Cajun seasoning, and cook 3 minutes, turning once.
Add 1/4 cup water, scraping pan to loosen browned bits.
Remove mixture from heat; add butter, stirring to melt.
Cover and keep warm.
For the grits, bring milk, salt, and 2 cups water to a boil over medium-high heat.
Reduce heat.
Gradually add grits, and cook until thick and bubbly (about 5 minutes), stirring constantly with a whisk.
Remove grits from heat; add cheese, stirring with a whisk until cheese melts.
Spoon grits evenly onto 6 plates.
Top evenly with shrimp, andouille mixture, and sprinkle with green onions.