I'm not Irish but I'll play along. So today is St. Patrick's Day and I'm definitely dressed in character for the day. I woke up this morning with no plans to dress accordingly since I'm not Irish. However, Kimoni reminded me that to day was "Le-pera-can Day" ( 😆 ) so I had to dress up. Plus I just so happen to have the perfect outfit for this day. I bought this really cute green and white striped shirt from Torrid last year. Shortly after I bout the shirt, they came out with matching shoes. Yay!! I'm really bad with that. Shirt must match shoes at all times. Even stripes and colors 😀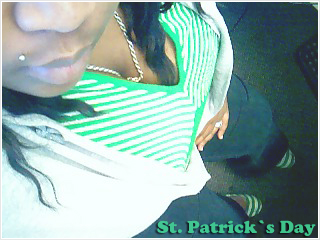 So here I sit at work this morning all decked out in green. And only 5 people on my side of the office even remembered to wear green. Yeah…I feel like a loser. 😛 Too late now tho. Hopefully wearing all this green with bring me some good luck :).
Did you wear green today?