I love doing these…it gives me a reason to go purse shopping for even more bags!  I'm kinda a bagwhore.  I love purses!!  And I own way too many.  Lately I've been trying to take it easy on buying new bags.  But the last time I went shopping for one purse, I ended up buying 4.  LOL!  At least I tried…*shrugs*
So this is one of my new bags.  I actually bought this purse for my little sister because her favorite color is purple. But after watching it sit on her desk collecting dust for nearly a week I took it back.  Yea…Indian Giver…so what! If she would have been using it I wouldn't have taken it.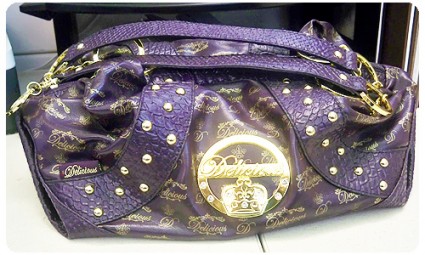 The designer is 'Delicious'.  I have never heard of them.  But they make some really cute bags.  I've been searching online trying to find them.  No luck so far.  If you know their site, please comment. Some of their bags resemble BabyPhat's style.  But it's different in its own way.  I'd love to buy more.  This bag retailed $45 but I paid $29.99 at Ross.  Don't sleep on Ross ladies.  I have got some really expensive bags for close to half off.  You just have to dig for the good ones.
Shopping Tip for Ross:

This is probably bad but it might help someone like it helped me today.  I bought a bag that I was pretty sure was going to cost me about $65.  I figured this cause I saw another bag by the same designer that was $80.  But my bag didn't have a single tag on it.  And it was the only one like it.  So I took it to the register anyway.  The guy wasn't familiar with the designer and said "Well, I'ma just guess..$17.99 sound okay to you?".  I was like "Sounds great!!".  DUH!! So if your bag has no tags…you just might pay even less then what it was tagged because they have know way of knowing what the price is.  Woot!! Keep that in mind when shopping at Ross.
So here are the contents of my purse: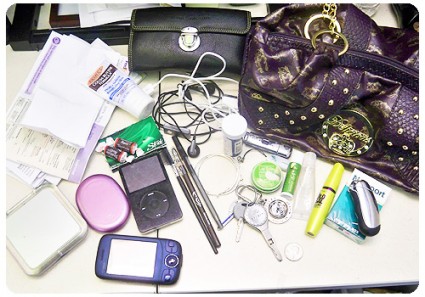 From Top Left to Right and full circle:
FedEx Receipts I shipped some customers boxes on the way home the other day.  Palmer's Cocoa Butter Formula Hand Lotion I love this stuff.  Makes my hands super softer.  Marc Jacob Wallet I need to upgrade.  I've had that one for a while now.  Cell Phone Headset and iPod Charger I love my headset.  It doubles as earbuds for the music on my phone.  Medicine The appetite supressant I take daily.  Lexar Flash Drive 2GB Contains backups of all my sites.  Red Bridge External Mini Card Reader 4GB I use that to put music on my cell phone. Sugared Pear Lip Balm & Chap Stick This stuff smells so good.  And was only $1 at Target.  Maybelline Shiny.Licious Lip Gloss My favorite gloss ever.  Maybelline Colossal Volum Express Mascara This stuff is the bomb!  Newports & Lighter Yes, I still smoke.  I'ma quit one of these days.  A Quarter I usually put loose change in a pouch case. I hate change in my bag.  My Keys House key, storage key, Inifiniti car key.  All on my Pisces keychain.  Earrings They hurt my ears.  I need sterling silver for sensitive ears.  A pen Always in need of one of those.  Brown Eyebrow Pencil & Eyebrow Brush by ME™.  I love my eyebrows!!  iPod Video 60GB Time to upgrade.  I want a 120GB.  T-Mobile Wing My new baby…me love her long time.  Stride Gum & 2 Tootsie Rolls Gum has become my new best friend since being on the diet.  For some reason I don't get hungry while chewing gum.  Covergirl Powder Fondation Amber Glow I love this stuff.  It's the only one that matches almost perfectly with my orangegie-brown complextion.  Mirror I call it the 'mega mirror'.  It has a regular mirror and one that's 10x zoomed.
And that's all folks.  It doesn't look like much bt with it all crammed in that purse…it's definitely full.  I just bought a bigger bag today so I can give my sister back her purse.  She act like she wanna carry it now that I'm using it LOL! Teenagers.
I'm supposed to tag 5 people so they can do a "What's In My Purse" blog.  But I don't know who to tag.  So if you are a female…and reading this…and you blog…then BAM!!  You've been tagged.  *smile* That was easy!!